[This article was originally published on Oct. 12. It has been updated to reflect the latest developments.]
California has a reputation as a haven for technological innovation. But the state's largest power utility is using the lowest of low-tech solutions — rolling blackouts — to protect dry landscapes from live power lines that could spark or overheat and set wildfires.
Responding to forecasts of strong winds, the utility, Pacific Gas & Electric, expanded its blackout zone in Northern California on Saturday to include 940,000 customers — affecting as many as 2.7 million people — even as the local authorities ordered the evacuation of 50,000 residents because of the spreading Kincade fire. The outage comes on the heels of another major blackout by the utility earlier this month.
There is technology, though, that can reduce the need for some of the most dangerous power lines and limit the extent of territory left in the dark.
"It's an incredible travesty, this sort of really crude and unsophisticated approach for dealing with what is a very serious issue," said Jack Brouwer, an engineering professor and director of the National Fuel Cell Research Center at the University of California, Irvine.
"We have technological solutions for this that exist," Mr. Brouwer said. Unfortunately, he said, California regulations and planning have been "insufficient for that technology to be used instead of just turning the power off."
One of the approaches, called microgrids, involves using power sources like solar panels and diesel engines to provide electricity for a community, a cluster of buildings or even a manufacturing site. Because that electricity circulates only locally, a microgrid can eliminate the need to transmit power over long distances.
Depending on how the microgrid is designed, some or all of the lights can stay on, whether or not the main grid is energized.
Amory Lovins, a co-founder and former chief scientist of Rocky Mountain Institute, a nonprofit group that focuses on energy, said that the vast majority of power outages begin with failures of the grid — the transmission and distribution lines and the equipment surrounding them — rather than with power plants. In places like California, those failed power lines can generate fires.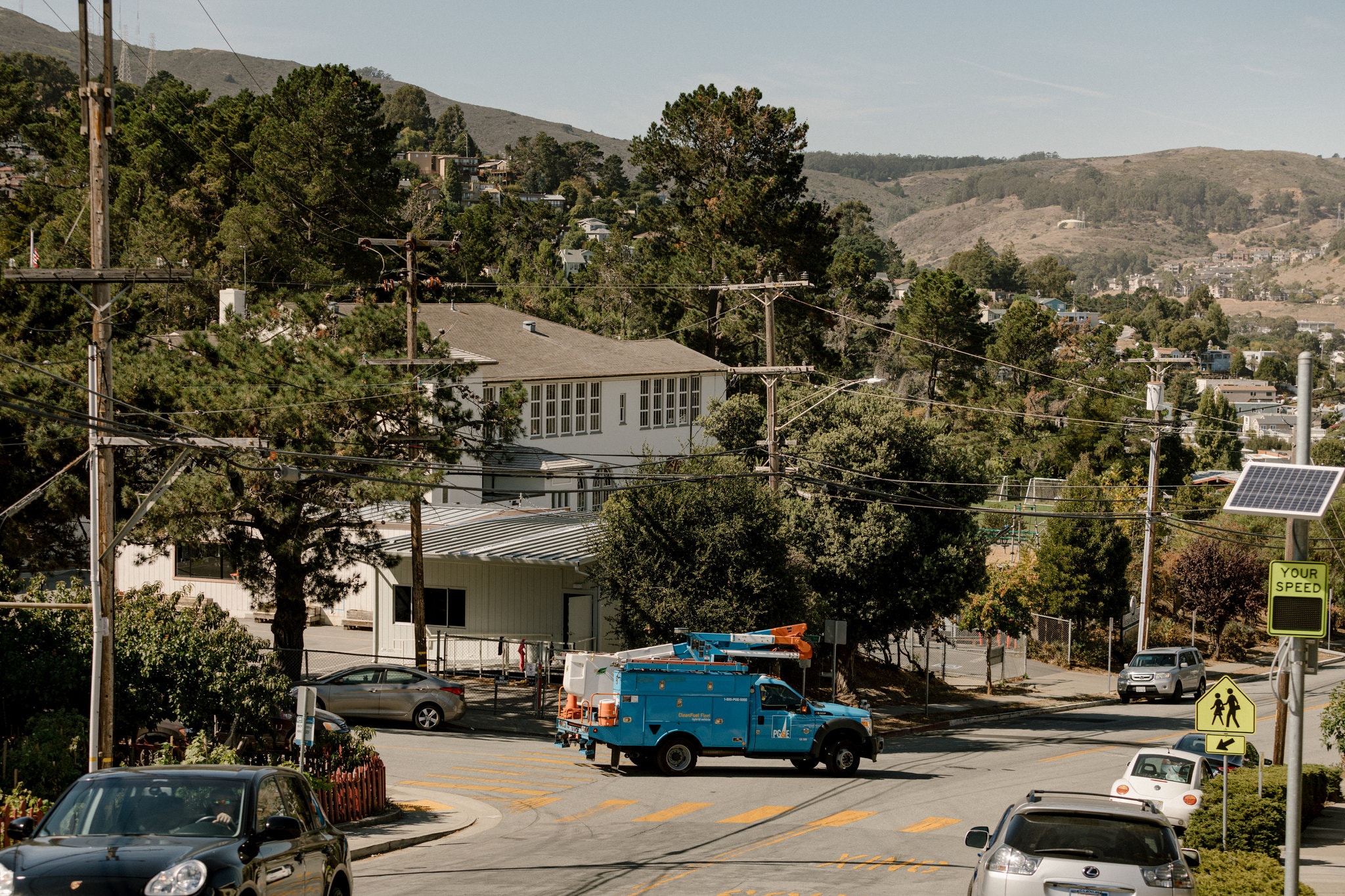 PG&E has turned off power to broad areas, including urban and suburban development far from the risk of fire. Credit: Jason Henry for The New York Times
"That's part of the logic of microgrids," Mr. Lovins said. "It's not big enough to need long-distance transmission, which is where a lot of the fire issues are arising."
"It could be part of the solution in California," Mr. Lovins added.
Some industry experts defended PG&E's use of the blackouts.
"It's one of the tools in the toolbox, and given that safety is paramount, they are erring on the side of caution," said Scott Aaronson, vice president for security and preparedness at the Edison Electric Institute, an industry group. "It's not exactly an elegant solution, but it does save lives and property."
He added, "They're doing what they can given the topography that they serve and where the threats of ignition are."
A town that uses microgrids can disconnect from the main grid either temporarily or permanently, depending on how the microgrid is designed. Some communities that have experienced frequent blackouts are taking a closer look at using microgrids to unplug themselves from the broader power system during emergencies. That way, they can use a variety of local power sources, like diesel generators, solar panels, gas turbines or fuel cells.
Fuel cells are a particularly efficient power generator. Both fuel cells and gas turbines usually rely on another grid — the highly reliable network of natural gas pipelines beneath the ground.
The town of Borrego Springs, which is 86 miles northeast of San Diego and is served by a single long-distance transmission line, uses a microgrid. After a wildfire took down that line in 2007, leaving the town's 3,500 residents stranded without power for two days, the local utility, San Diego Gas & Electric, built a microgrid demonstration project for the town.
Today, if the transmission line feeding power to Borrego Springs goes down, the town can detach itself from the grid and draw power from an array of diesel generators, solar farms, rooftop solar panels and batteries. The system faced an early test in 2013, when severe storms knocked out the power lines and the microgrid fed power to more than 1,000 customers and critical facilities — such as gas stations, stores and a cooling center at the library — for more than 20 hours while the line was being repaired.
The drawback of microgrids is that they can take years to build and they tend to be more expensive than the traditional grid. San Diego Gas & Electric relied on $13 million in state and federal grants to set up the Borrego Springs project and is still working to refine the system. But the costs of blackouts can also be high: Borrego Springs has a large elderly population and can experience 100-degree heat in the summer.
Interest in microgrids is rapidly growing around the United States. Philadelphia's Navy Yard, Alcatraz Island and an affordable housing complex in Brooklyn all have versions of microgrids that can operate autonomously when the larger power grid goes down. And while many of these microgrids rely on diesel or gas power to provide electricity around the clock, some are incorporating cleaner energies like solar power and batteries as the prices of those technologies drop.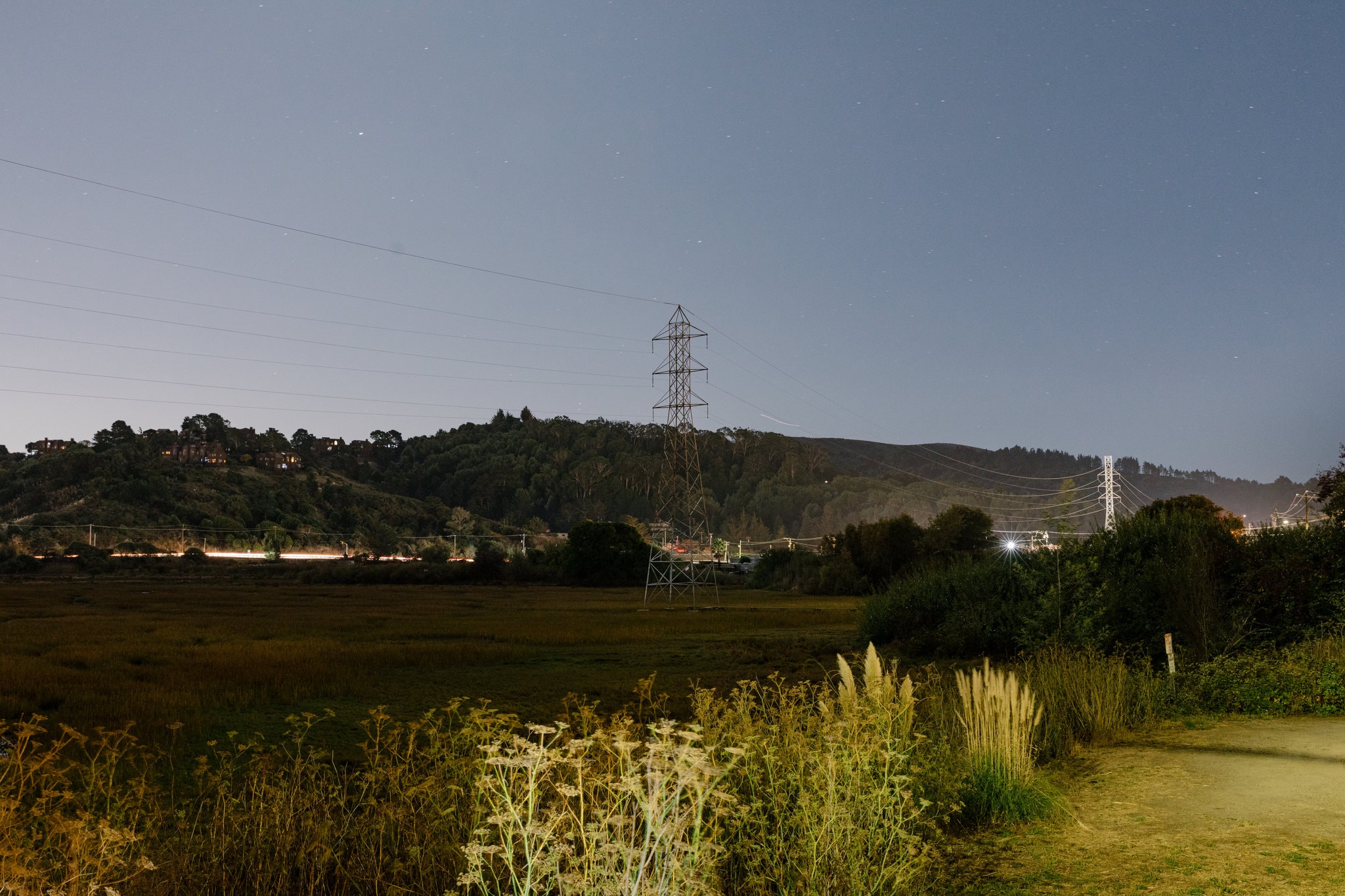 While some areas in Northern California lost power earlier this month, others still had light. Credit: Jason Henry for The New York Times
"A lot of interest in minigrids in the United States has been in response to disasters," said Paulina Jaramillo, a professor of engineering and public policy at Carnegie Mellon University. "Large centralized grids usually have a cost advantage because of economies of scale, but if there are reliability risks, it makes sense for communities to take into account the cost of those outages."
In the earliest years of electrical service in cities, all the networks were so small that they were, effectively, microgrids, said Harold L. Platt, author of "The Electric City" and professor of history emeritus at Loyola University Chicago.
"From the 1900s into the nuclear era, you could keep building them bigger and bigger," Mr. Platt said. "You achieve efficiencies by having high-voltage transmission lines, so you could connect all these local grids and power them from these giant generator stations."
The expansion meant efficiency, but also the potential for much larger outages — as in 2003, when power lines in Ohio sagged into trees and became inoperable, setting off a blackout that swept north as far as Canada and then down the East Coast of the United States. The cost of a line sparking or shorting out in dry zones like the California hills can be far greater — leading to not just a blackout but also a fire.
Mark Feasel, vice president of Smart Grid at Schneider Electric, said that the argument that utilities or private organizations lack the expertise to set up microgrids no longer holds. Schneider, for example, offers a service that designs the system, connects the various sources of power and provides the technology to operate it.
That service provides a "bespoke utility" for customers, Mr. Feasel said. He said there is "nothing standing in the way" of using those microgrids in California, except that regulated utilities like PG&E rely on the public utility commission to allow spending on such projects and create regulations to make the approach viable. The state commissions are often reluctant to make those outlays, Mr. Feasel said.
"Which is why the real innovation is happening outside the utility structure," Mr. Feasel said.
The California Public Utilities Commission did not respond to a request for comment.
K.R. Sridhar, the chief executive of Bloom Energy, a company based in Silicon Valley that makes fuel cell-based microgrids, called them a "homegrown technology" in California.
"This is a technology that has to be adopted in California to save property and the lives of people," Mr. Sridhar said.
"In spite of that, political leadership and the regulatory framework is not enabling this," Mr. Sridhar said. "The people of California have a right to be upset at its leadership and demand better solutions, because they exist."
[A version of this article appears in print on Oct. 14, 2019, Section A, Page 17 of the New York edition with the headline: In High-Tech California, Blackouts Are a Utility's 'Crude' Way to Curb Fires.]